The West Auckland, New Zealand Conquest groups welcomes ECYD convention boys with style.
July 31, 2008. Auckland, New Zealand. The distance between a Conquest group in Washington, DC and a group in Auckland, New Zealand is 8,622 miles, about 1/3 of the earth's circumference. But, as the 41 boys on the ECYD convention prior to World Youth Day discovered, physical distance is no obstacle when it comes to sharing the same spirit.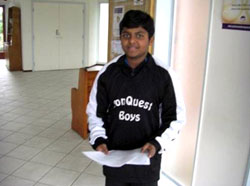 The West Auckland Conquest group gave a warm (and well-organized) welcome to the boys on the ECYD convention.
Aside from World Youth Day itself, one of the highlights of the boys' ECYD convention was their historic visit to a Conquest group in West Auckland. The Auckland group gave the boys a magnificent welcome in a local parish. They set up Mass for the group, put on a musical concert with violins and other instruments, and even sang for them. The boys who participated were amazed at how two groupss so far apart in distance could instantly be so close because of their shared ideals.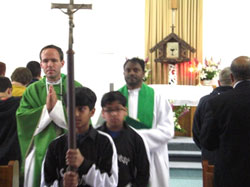 Nick Lulli, 18, a Conquest member volunteered as a youth leader on the trip, said: "I was impressed by the openness and cordiality of the New Zealand ECYD boys we stayed with in Auckland. They provided a fine example of what it is to be a host, and one could see that our boys were influenced as a result."
"The sharing of ideas between groups thousands upon thousands of miles apart was a living testimony to the universality and catholicity of the Church, Conquest and the Legion of Christ," he said.