AJ Ware and his friends help South African school and town get clean drinking water.
Thanks to an enthusiastic Conquest member and a little help from St. Therese of Lisieux, an impoverished town in South Africa will soon have a source of clean water.
It all started last year when the then 9-year-old AJ Ware, a self-described explorer from Versailles, Kentucky, learned of a contest to win a spot on the National Geographic Kids Expedition Team.  Hopefuls needed to write a short essay about how they liked to explore in their own backyard and neighborhood.  Fifteen winners would be selected to take a safari to South Africa.
Known for carrying around a backpack stuffed with binoculars, a pocketknife, magnifying glass and sketchpad filled with drawings of the red-tailed hawks that frequent his backyard, AJ had little trouble composing the essay.  His father Chris said that essay, along with the drawings from AJ's bird-watching adventures that he included, certainly helped him win a coveted spot for the 10-day safari.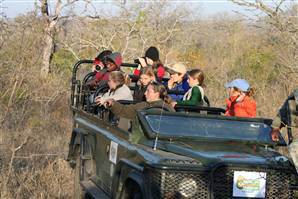 A Virtuous Loss Turns into a Win
But it wasn't easy for the youngest of the chosen explorers.  Though AJ's essay was selected among the top 25 finalists, his was not, at first, among the top 15.  Chris explained that AJ, while very disappointed, was most concerned about the feelings of the other kids whose entries were not selected.  AJ wrote a thank-you note to National Geographic for allowing him to have the experience. Chris sent the note, and added a request that if any of the winners were unable to attend, might AJ be considered as an alternate?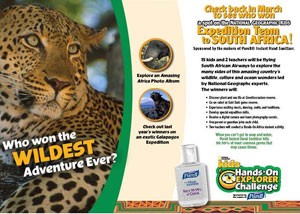 During the process of the competition, AJ's family had been praying a novena to their favorite saint, Therese of Lisieux, also known as the Little Flower.  When they finished the novena, AJ got a call from the magazine selection committee saying one of the winners had been disqualified due to his Canadian citizenship. (The contest was open to US citizens only.) A spot was now open for AJ.
That same day, AJ's father, an artist by trade, was performing his weekly task of downloading photos for work from a site on the Internet.  On that day, only one photo was available – a single rose – which happens to be the trademark answer from St. Therese that her intercessory prayers on your behalf have been answered with a yes.
So began AJ's trip of a lifetime.  He and his fellow explorers first saw the South African coastal area with the purpose of studying marine life.  They would see dolphins, whales, seals, and penguins and yes, even a Great White Shark.  The students were privileged to meet Lester Holt from the NBC Today Show and Nightly News, who accompanied their sea voyage.  Holt even broadcast part of the trip in which he himself descended into the deep in a shark cage for a closer look at the Great White.
School and Town Meet AJ and His Friends
But it would be during the second part of the journey in which AJ would visit the South African town known as Lilydale, where he would meet friends whose lives this little boy would change forever.  The contest winners were to visit Sam Nzima School in the town.  Poor children, many of them AIDS orphans, would walk in to the school from miles around.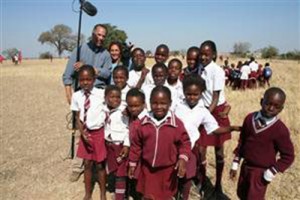 AJ and his fellow contest winners were deeply affected by what they saw.  Chris explained that the word "slum" was too nice a word for the conditions at the school and in the town – cardboard dwellings with pit toilets and no running water anywhere.  All these school children and townspeople had for fresh water was located in scattered blue containers brought in from wells outside the town.
The explorers wanted to do something to help.  The organizer of the tours for National Geographic is Warren Green.  Inspired by the children, he decided to pursue his idea for a foundation called Footprints to help these poor African towns.  AJ contributed to the effort with the slogan "Taking Steps to Help Others" and his father Chris designed a logo for the foundation.  A website is being developed (You can check it out soon under www.footprintsfoundation.org.)
The Foundation's first act will be to help Sam Nzima School put in a water pump to bring fresh water to the school, as well as surrounding town, at a cost of $15,000.  The foundation will also later help add more classroom space to the school and a security fence to protect the students from wild animals.
One of AJ's fellow explorers, Meghan from California, raised $2,000 toward the foundation's effort, and Caitlin from New York raised $1,000.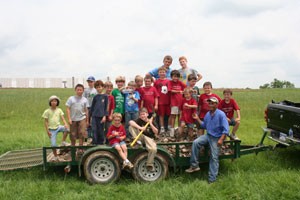 Conquest Members Sacrifice Equals Success
But it's AJ's work that has brought in the most money so far, surprising even Mr. Green. With help from his local Conquest club, AJ and 20 other members offered to help clear rocks from a Kentucky thoroughbred horse farm whose manager, Ignacio Pitino, had been trying to get the job done with his own farmhands on the 200 acres for quite some time.  In the meantime, the horses were injuring their delicate hooves.
The Conquest boys and their fathers have donated five-hours of backbreaking labor so far, and plan to go back to finish to job as weather permits.  Siena Farm has generously given $5,000 toward the foundation's goal; a figure Chris says far exceeds the amount of labor done.
The donation was made in honor of AJ's Conquest group former leader, the late Joe Taylor.
AJ, Conquest, and Lilydale are thankful for the generosity of Siena Farm and Footprints should soon have enough funds to put in the water pump.  Great job AJ! (And thanks St. Therese!)