By Trish Baily de Arceo
St Louis, MO. On December 5, a group of 13 sixth-grade Conquest boys descended on the Regina Cleri Residence for Retired Priests, bearing gifts of Christmas cards, cookies, and eggnog. The visit was an apostolic project they had been planning for some time as a way to honor priests during the Year for Priests.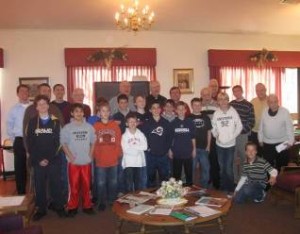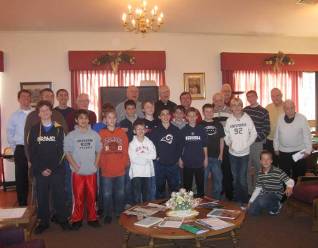 It was a moment of Holiday Company and cheer. "We sat around and chatted with the priests about anything and everything" said one of the boys.
The Conquest boys were especially captivated by Monsignor Jerome Sommer's war stories. After serving for years as a military chaplain in the Philippines, Vietnam, Korea, and Japan, the elderly priest had a rich store of experiences to share. This was the Conquest group's second visit to the Regina Cleri Residence, and the boys had been looking forward to Monsignor Sommer's stories as a highlight of the trip. 
It was not only the boys who enjoyed the visit; the priests were also pleased to welcome their young faces. 
The priests asked them to come back next year, and they surely will!