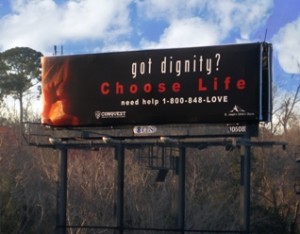 Jacksonville, FL. March 13, 2010. Guided by their team leader Tom Truss, an 8th grade Conquest team recently launched a pro-life message that will be seen by thousands of people driving on I-95 north through Jacksonville, Florida.
Their achievement: The Conquest service project – Big & Bold – a huge pro-life billboard launched in teamwork with St Joseph's parish in Jacksonville. The club had the full support of their pastor, Fr. Dan Cody, who let the boys use parish resources for the project. Fr. Cody even made the final donation that helped them meet their goal.
The billboard was one of the proposed apostolic projects in the Conquest program curriculum as a "Big and Bold" activity, its purpose was to teach the boys to think big and set their goals high. At first, the boys almost thought it would be impossible. But with the encouragement of their team leader and adult leader, they began making the impossible possible.
"We encouraged the boys to stay on course by making a large replica billboard and displaying it at our meetings," said Tim McMillan, Conquest leader at St. Joseph's parish. "It was inspiring to see these young guys go from thinking this was too difficult for a group of 8th graders to accomplish… to tackling it head-on. They generously gave of themselves and did something wonderful for God and for the pro-life cause."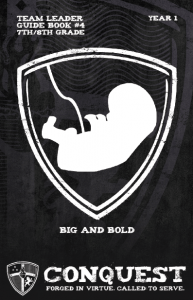 They spent the entire winter fundraising for the billboard with projects like selling firewood and peddling pro-life bumper stickers after Mass. Finally, in early March, the funds were ready and the project became a reality.
"It was very rewarding and I felt proud that our team was able to do something to promote the life of the unborn," said TJ Jakubowski, and 8th grade club member.
The giant sign will be up for a total of 6 weeks, and is located just before Exit 356 going northbound, on the left side of the road just as the road curves. 
You can view a video the boys made about the project HERE.