Story by Br. Nathaniel Gregor
When a group of twenty-five boys shows exceeding joy throughout all nine hours of a long, stuffy bus ride, you know something special must have happened. There certainly was a lot of joy throughout our nine-hour bus ride returning from our March Break Camp. When there is that much joy lasting so long while cramped into a bus, only one thing could have happened: The boys must have had an experience of the love of Christ.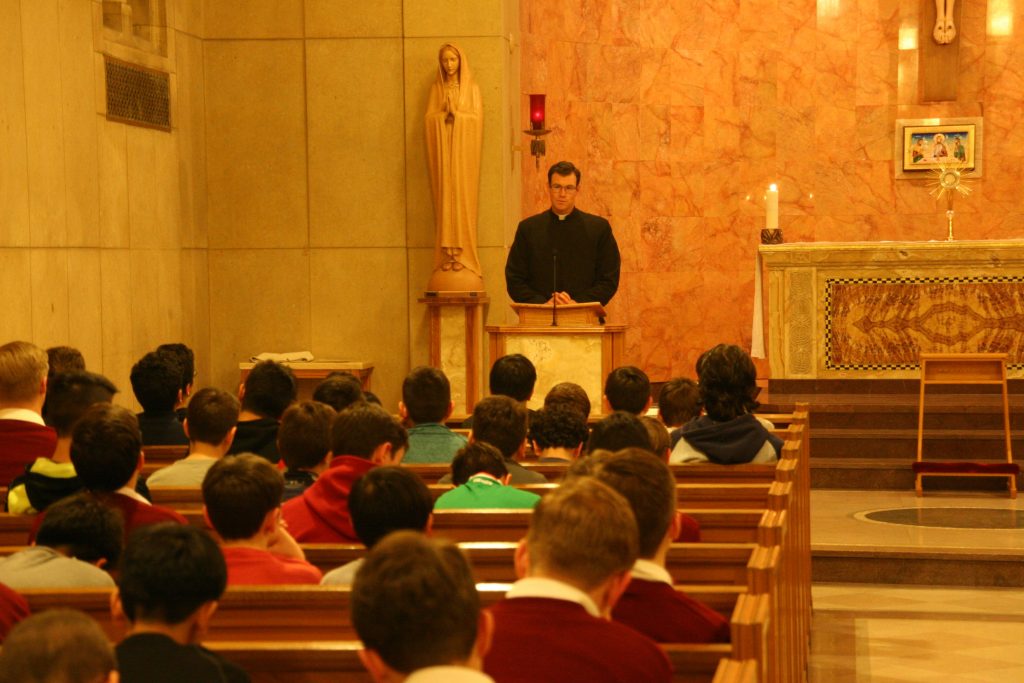 That is what we try to do in all our Conquest & ECYD camps: Give an experience of the love of Christ and help the boys grow in friendship with Him. But the March Break Camp is special among our camps. It is the camp where we bring the boys down to Sacred Heart Apostolic School in Indiana, a Legionary school for boys thinking about the priesthood. For this reason it is perhaps the most impactful camp we have, because the campers see the witness of boys only a little older than themselves following Christ with great generosity and immense joy.
Throughout the camp we followed the life of St. Ignatius of Loyola, each day focusing on a period in his life where he displayed a different love Christians should have. These loves were love for Christ, love for Mary as our Mother, love for the Church and the Pope, and love for souls. Our great team of counselors prepared various games that had to do with each of these themes. Thus the boys had a blast following Ignatius into battle against the French during capture the flag in the woods, they followed him during his life as a pilgrim by making their own pilgrimage to the Shrine of Christ's Passion, and they enjoyed the many other theme-based activities the counselors prepared. They enjoyed dodge-ball and soccer with the students at the school, ice hockey and an indoor soccer tournament, sledding at the giant sand dunes overlooking Lake Michigan, and, of course, pool and ping pong in the beloved games room. After four action-packed days, the night before our return to Canada, many of the boys made the ECYD Pledge of Friendship with Christ, telling Jesus that they wanted to grow each day in their friendship with Him. Then we celebrated with an ice cream party.
It was certainly a special camp, and a special joy reigned, a joy that comes from experiencing the love of Christ.