Original Story posted on RegnumChristi.org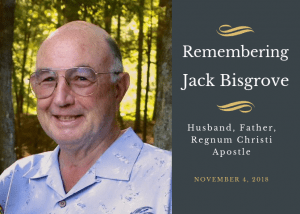 If you were to paint a picture of a Regnum Christi apostle, you could well pick Jack Bisgrove for your model.
Jack, one of the original RC members in upstate New York, passed away November 4, at age 79. He was a man of deep, abiding faith.
Jack was the father of former seminarian, Brian Bisgrove, who founded Conquest Youth Ministry after he was diagnosed with terminal brain cancer.  Brian died in 1998.  When Jack first found out about his son's disease, he told his RC team that "God reached down and touched our family today" and he never questioned why.  He trusted in God's plan. After Brian died, Jack spent many years of his life carrying on his son's legacy by launching Conquest throughout the country.
To know Jack the father, you need to know a bit of Brian the son.  In each, you might experience much of the other.
As a boy, Brian loved to play sports and spend time outdoors exploring nature; he enjoyed family gatherings, especially trips to the Adirondack Mountains. His many friendships were an essential part of his life. When he was twelve, he decided to attend a minor seminary of the Legionaries of Christ. In his application letter, Brian wrote, "I am not sure that God is calling me to be a priest, but I want to be with boys who are searching for God's plan for their lives."
Brian completed High school at the age of 16. With the help of his superiors and his family, he discerned that God was calling him to the lay vocation, in which he could help boys and young men develop into Catholic leaders who would bring Christ to the modern world. When he returned home, he met with his friends that he had left a few years prior, and realized that many had succumbed to the secular enticements of the world. He wanted more than anything to share his joy in what he had found; a personal friendship with Christ. His utmost desire was for them to receive the gift of faith formation that he had received in the minor seminary. He began getting them together to play sports, a common thread and an activity that all enjoyed. He introduced them to his friend Jesus Christ through Gospel reflections, and the first youth program was born. He volunteered to work with a priest who was serving in Syracuse. He started four youth programs, developed a team of businessmen to support his efforts, and identified a major sports facility that could host the youth programs. After two years, at age 19, he decided to return home to work on the family farm while continuing his apostolate.
However, God had a different plan for Brian. The day he was to start work, May 1, 1996, he had exploratory surgery to find the cause of continuous sinus infections and severe headaches. The operation revealed a tumor in his sinuses. This was the beginning of his two-year struggle with cancer.
After major surgery for his sinus tumor, the doctor informed Brian of the very serious pain he would be undergoing because of the operation, and how to control it through the intravenous medication available to him, saying, "If the pain gets too great, you just push this button here for an injection of morphine, which will help." Brian told the doctor that he didn't want the morphine and asked to have it removed.  His doctor tried to reason with him, explaining, "No, Brian, you see, you don't understand. You are about to experience more pain than you have in your entire life. We'll just leave it there… just in case." Brian had another plan.  He told the surgeon, "No, doctor, you see, you don't understand: in my condition, I can no longer work for the boys the way I used to be able to; this is all I have to offer up for them; and you're not going to take it away from me. I want it removed." 
Throughout his illness, Brian continued to develop a plan to establish boys' youth programs called "Conquest" that would offer fun and formation, and bring young men closer to his friend Jesus Christ. He encountered many frustrations in his early efforts, but through them he became convinced that a simple starter program was needed, to get boys involved at a younger age, one that would allow fathers to work with the boys and invite younger boys to participate in the program. This led to the later concept of the first Conquest Junior Program.
Brian died on February 10, 1998, at the young age of 21. But as there was a like-minded apostle in the family, his Conquest dreams continued. Like son, like father.
Jack took up the mission of Conquest and helped form a team to institutionalize the apostolate, making it into a formal youth program that could be spread far and wide. The Conquest national team today believes that abundant graces are still being received through all of the suffering that Brian offered up for the boys and dads of Conquest. In fact, between Conquest and Challenge (its counterpart for girls) there are some 150 clubs across North America with more than 7,000 participants.
Brian wanted a specific quote placed on his funeral card, and that quote sounds like exactly what every member of Conquest strives for: "To know the will of God is the greatest knowledge. To find the will of God is the greatest discovery. To do the will of God is the greatest achievement."
Jack, like his son, was a true believer in the power of forming young men:
"If you take a young boy and guide him through adolescence so that he doesn't compromise himself, what you have at the end of that journey is a young man who understands who he is, has a strong relationship with Christ, and is ready to set the world on fire."
Jack – like Brian – faced death (also from terminal cancer) with peace and faith.  When he was recently asked by a family member how he was coping with the disease and its approaching outcome, Jack replied simply, "I am at the station waiting for the next bus."
Jack was a native of Auburn, NY, and husband of Marsha Coleman Bisgrove. He was the son of the late Irene (Nolan) and John Bisgrove, Sr.  After college, he returned home to work with his father and brother in the family trucking business, Red Star Express Lines, eventually leading the growing company as president & CEO. After retiring from the trucking industry, he focused his entrepreneurial talents toward his love for nature, establishing Sunrise Farm in Owasco. Always dedicated to the Auburn community, Jack served on many local boards and charitable organizations.
Jack was a member of St. Mary's Church. His passion for the Catholic Faith was manifested in his commitment to local parishes and his involvement in Catholic education. This was evidenced by his 30-year tenure of leadership on the board of Northeast Catholic College in Warner, NH and his support for the Legionaries of Christ, especially their work with youth and the formation of priests.
Jack's greatest love was his family. He spent many hours sharing his faith, his love for the outdoors, and his Italian heritage with his children and his 20 grandchildren. Always the philosopher and mentor, Jack loved to discuss the dignity and value of every human person, and he led by example in all his interactions. His kindness, generosity, and sincerity continue to give everyone who knew him "big shoes to fill." He lived by his motto: "I aspire to inspire before I expire."
In addition to his loving wife of 54 years, he is survived by a son, John Bisgrove III; three daughters, Laura (Kenneth) Boyd and their children Jeffrey, Amanda, and Brian; Sherry (Kevin) Panas and their children Sgt. Joshua, USMC, LCPL Isaac, USMC, LCPL Dominic, USMC, Paul, Angela, Matthew, Maria, Andrew, Maggie and Jack; Rhonda (Thomas) Maier and their children A1C Joseph, USAF, Johnpaul, Christopher, Thomas, Stephen, Benedict and Patrick; a brother Jerry Bisgrove; sisters Betty Jean Kinsella and Mary Lou Jones, several nieces, nephews and cousins.