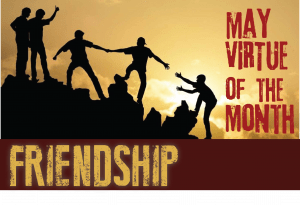 The virtue of the month for Conquest and Challenge in May is friendship. It may not be common to think of friendship as a virtue because virtues are habits that we acquire with hard work and effort. But just think of how hard you need to work each day to be a true friend? To be a true friend to others, you need to live many virtues – kindness, compassion, understanding, selflessness, forgiveness, etc.
Friendship is how I impact the people closest to me and serving those in need through projects and giving of my time is how I impact people I may not know very well. Friendship is a Christian virtue because Jesus lived it. We can turn to his example in the Gospel and his words to find out how to live true friendship. This virtue was so important to Jesus, that he actually commanded his apostles to be good friends to one another… "This is my commandment, that you love one another as I have loved you. Greater love has no one than this, that someone lay down his life for his friends. You are my friends if you do what I command you. No longer do I call you servants, for the servant does not know what his master is doing; but I have called you friends, for all that I have heard from my Father I have made known to you. " ( John 15:12-15) Jesus was able to be a real friend to his apostles when he was here on earth, so why do some people find it hard to believe that you can truly have a friendship with God now through prayer? It's the same Jesus in the Eucharist who performed the miracles on those in need, who listened to his friends in their time of need and who forgave his apostles when they abandoned him.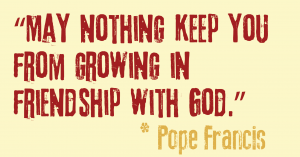 Likewise, Mary is a true friend to each and every person. She is there for us when we need her and wants the best for us. We need to foster this friendship with Mary by turning to her. May is the month for honoring Mary in Catholic Church tradition.  For centuries, the Church has set aside the entire month of Mary to honor Mary, Mother of God. Not just one day in May, but the entire month. How can we strengthen our friendship with Mary in her month of May?