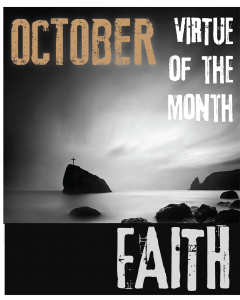 The virtue of the month for Challenge and Conquest in October is faith. There are two types of faith: what we believe (our Catholic faith as a body of teachings) and in whom we believe (God – our personal relationship with him). What we believe is important , but even more important is the One in whom we believe. Our faith is personal and has general teachings.
The prayer of St Patrick can be found on the back of the Challenge holy card this month. He is a great example of understand these two aspects or types of faith. St Patrick spread the teachings of the Catholic church all across Ireland – even the most complex teachings of our faith, like the Holy Trinity. But St Patrick also had a beautiful personal relationship and faith in God. We can see that in the prayer or St Patrick "Christ with me, Christ before me, Christ behind me, Christ to my right and left…" St Patrick brought God into every aspect of his life and showed us what a LIVING faith is all about.
Faith is hard sometimes because it means believing in something and someone that we have not seen. If we could see it then it would not be faith – it would be proof and knowledge. Faith is hard because it involves trusting someone and putting yourself out there. One of great passages in the Gospel about faith can be found in Luke 7:1-10,  when the centurion asks Jesus to cure one of his sick servants. Jesus rarely points out people's faith but this man impressed Jesus so much that he said "In all of Israel I have not found such faith."  Why?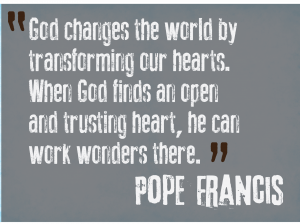 Back in Jesus' time, the Romans had invaded and were governing Jerusalem. So the Jewish people had to follow their rules and learn to live with them although they saw them as pagans because the Roman' did not have believe in the Jewish God. They had to learn to get along with each other so that there was not constant war and strife. A centurion was an officer in the Roman army who had 100 soldiers under him (centuria= 100  in latin). This centurion had a slave who was dying and who he cared about a great deal.  This centurion was not Jewish and definitely not Christian but  he was a good person who had helped the Jewish people build their Church. He had heard of the miracles Jesus could do so he sent the Jewish elders to ask for Jesus' help to cure the slave. Jesus was on his way to the house when he was stopped again and told not to even come to the house because the centurion believed Jesus could cure the servant from anywhere. He did not even need to see Jesus. Jesus  cured his servant and Jesus points out that this man's faith to his apostles because  He believed without even seeing Jesus. He understood the power of God and trusted.