By Brian Doran, MD
Arcatheos summer camp for boys offers an experience like no other!
Dreaming of a wonderful summer camp experience for your son next year? You may not be dreaming big enough.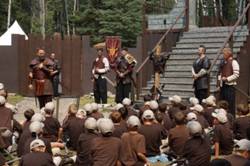 The experience of the young men who participate in the Arcātheos camp is like no other. From the moment a boy passes through the gates, he enters into an adventure in which he plays an essential part of the plot.  While forging friendships, he will learn of the art of brotherhood and the strength of being part of a unified team.  He will train to survive against adversity, and to develop skills with the bow and sword.  And each year that he returns, he will have the opportunity to climb the ranks of leadership by his example and service.
Arcātheos is located about 45 minutes southwest of Calgary, Canada. The camp is open to Catholic boys, ages 7-17 years old from throughout North America. The formation experience of the camp program also includes men interested in volunteering, wherever they may be in their journey of faith.Arcātheos is more than a summer camp. It is a "kingdom" where boys become knights, and knights become men.  Within the mighty walls of the Arcātheos castle, virtues are forged and commitments are renewed.   Those who come will learn the richness of the Catholic faith and be able to discern the truth of the "Great King."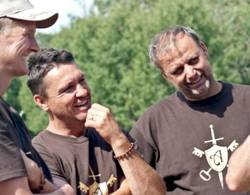 "Those boys who have yet to experience Arcātheos first hand should consider making it part of their summer," said Fr. John Gannon LC who serves in Canada. "Boys age 9 and older can attend even if their dads are unable to. And fathers are welcome to join the team!"
You can also visit the website for Arcātheos' sister camp for girls, Captivenia, at  www.captivenia.comThis past summer more than 150 boys and 50 adults enjoyed the Arcātheos experience.  For more information, go to www.arcatheos.com.