Weekend Campout Kappe – Conquest Texas
By: Mark LeGros, Texas Conquest Counselor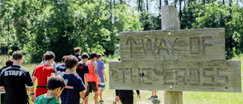 Weekend Campout Kappe: Lionheart, held at Camp Kappe Retreat Center in Plantersville, Texas, was filled with adventure, teamwork, dodgeball, and wrapped in   prayer. Campers were able to experience the exhilaration of firing off potato cannons and feel the satisfaction of seeing them explode into smithereens on the ground, trees and whatever other target that made it into their crosshairs. The campers learned how to grow from boys to men, not physically, but spiritually, as our counselors helped impart onto them what it means to embody Catholic masculinity.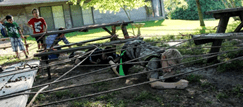 Our Saturday started with Morning Prayer, Mass, and a fantastic breakfast courtesy of the dads that stayed to help in the kitchen. The day continued with sports,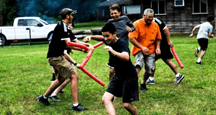 talks by the Legionaries, a Rosary walk and Lunch. After lunch we entered into our big events, from potato cannons to our Olympiad of sports and obstacle course. The obstacle course ran up a pyramid of concrete, crawled through the dirt and under tables and ropes, across a rope bridge, through hoops, and other team activities marking the culmination of the team's unity and strength. Throughout the day, several of the teams made it a point to take time before and after meals to stop by our chapel to pray with Jesus in the tabernacle.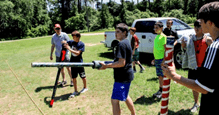 Sunday started with an early wakeup call followed by sports and the Cleanup-O-Rama! After some dodgeball, Morning Prayer, and breakfast, everyone got into their best dressed for Mass with the parents. The final award ceremony was filled with anticipation, as reigning team captain champion (never been beaten) narrowly obtained victory from his new team captain rival (friendly competition only, of course, securing victory with only three points at an amazing 1240 to 1237 final point tally. Overall, this weekend camp provided each individual with an opportunity to grow as men of God and leave with a renewed Lionheart, on fire for Christ!
Texas Conquest would like to recognize the families who provided extra snacks, Mr. Howard Harrell (McDonald's) for providing lunch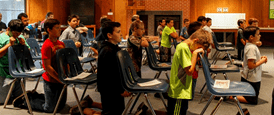 , Mrs. Julie Baumann for breakfast and desserts and Gabriel Zanoff for the incredible photography.
If you would like more information about Texas Conquest activities please visit www.texasconquest.com