Advent and Lent each year brings out the competitiveness of the Conquest groups across North America.  Each Conquest group has a free membership to CatholicQuiz.com, and is able to join the contest and compete for prizes by playing fun online games on the site that help them learn more about their Catholic faith.  While playing varying games by age/level, they rack up CQ-IQ points for their Conquest local group, as well as themselves.
Congratulations to those boys and clubs that participated this year and used their play at CatholicQuiz.com to increase knowledge of their Catholic faith!  The Conquest groups that participated racked up a total of 23,254 CQ-IQ points!  That's a lot of knowledge!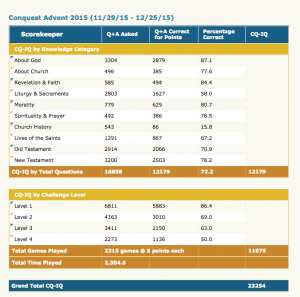 The boys at Conquest Holy Rosary from Milton, Ontario won the First Prize ($75 for pizza) and they dominated the play with a total of 14 players who each played 5 games or more and scored a total of 11,014 CQ-IQ points across the three groups (Father/Son, Junior & Club). Top individual scorers from each of the three groups were:
F/S – Elias Medeiros (121 games and 1511 Points)
Junior – Patrick Mizgala (173 games and 1390 points) and Malachi Ruberu (145 gamest and 2018 points)
Club – Ian Mizgala (203 games and 1790 points)
Also eligible to receive the $75 pizza prize were the boys form Conquest Holy Redeemer from Pickering whose 10 participants scored a total of 7,991 CQ-IQ points. Top individual scorers were
F/S – Rhys Menezes (57 games and 769 points)
Junior – Gage Haynes (39 games and 450 points)
Club – Ethan Haynes (555 games and 4866 points)
Other top individual scorers for each of the groups from participating Conquest groups were the following:
Conquest St. Luke from Saskatoon Canada
Club – Dan Laskyn (73 games and 876 points) and Luke Chatlain (38 games and 453 points)
Conquest St. Stephen Martyr from Omaha, NE
Junior – Drake Smith 25 games and 297 points and Grant Venner (23 games and 250 points)
Conquest St. Brendan's from Cumming, GA
Club – Nicholas Delise (13 games and 142 points)
The Second Prize ($50 Conquest Store coupon) group winners were:
Conquest Holy Rosary Junior Group
Conquest Holy Rosary F/S Group
All individual boys listed above win a free CatholicQuiz Individual Membership to be given as a gift to a friend, family or teacher of their choice.
If your group did not participate in the CatholicQuiz.com Advent Contest, seriously consider joining the upcoming Lenten Contest.  Look at all of the prizes your group and boys could win!