Todd Brechbill, director of Conquest Youth Ministry groups and Nadine McMillan, director of Challenge Youth Ministry groups both were present at the World Meeting of Families to share their programs. For Todd, it was an eye opening and emotional experience of the Universal Church and our responsibility to help those who suffer for their Catholic faith. Pope Francis speaks about going out to the peripheries, where people suffer, are poor and persecuted. In Philadelphia, people from the peripheries came to Todd. He shares his highlights below.
Young and Catholic in Islamabad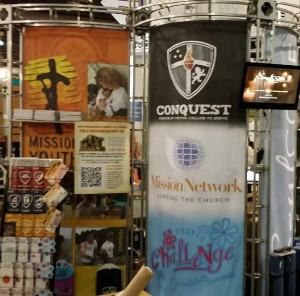 At one point, more than 20 teenage boys from Islamabad, Pakistan came up to our Conquest booth in the exhibit hall to get the Conquest military style "dog-tags" I was giving away.  They all put them on and told me that they were the neatest, coolest thing ever.  I spoke to 3 of them who had a bit of broken English, and asked them what it was like to be Catholic or even Christian in Islamabad.  It was hard to understand them, but they told me that they are scared – they are persecuted.  They said the word "secret" several times.  I asked them if they would be able to wear their Conquest dog-tags at home in public.  They said no, and that if they did, they and their family could be persecuted and taken away.  An overwhelming sense of emotion came over me at their words, and I began to tear up.  I pointed directly to them and told them that they were my heroes.  Heroes of the faith.  According to the group "Open Doors UK" which aids and builds awareness about Christian persecution around the world:
"Pakistan's notorious blasphemy laws are frequently abused to attack minority groups, including Christians. They are often used to settle personal scores, and vigilantes carry out punishments on the accused without trial. Dozens of new cases against Christians were filed in 2014. But despite this, the government has ignored any national or international calls to amend the laws. Churches are still free to meet, but they are monitored, and services are sometimes attacked. Christians are treated as second class citizens; Christian women and children are particularly vulnerable to rape and sexual abuse.
I can't imagine what it would be like to be in their shoes, to know that you are treated as second class citizens for your faith, and living in constant fear of being persecuted by the government or radicals.  While churches and worship are free to meet in most places of the country, there is real persecution going on.
Spiritual Hunger in the Eastern Ukraine
We met 5 adults from the border in Eastern Ukraine, an area under the siege of violence between the Russian and Ukrainian governments in a conflict about land and power.  The history of this area is one of deep faith, devastated over the last century by communism, recession, poverty and war. One woman who spoke broken English told us that they had been walking around the World Meeting of Families exhibits for almost 2 days looking for youth formation programs.  She hadn't found what she was looking for.  Nadine McMillan and I explained to her what we offer through Conquest and Challenge, and asked her about her needs.  She said that she has weekly 100 to 150 kids coming to their small Catholic center on Sundays to receive catechesis.  They do not have anything to give them, and their adult volunteers are not trained.  They simply talk about God, sing songs about Jesus, play games and have some arts and crafts done with donated supplies.  She was blown away by the Conquest and Challenge programs and desperately wanted to know how to get them. In our conversation we found out that they did not have internet readily available or even a printer.  Nadine and I decided to give her some of our hard-copy team leader guidebooks, which contain all of the curriculum for middle and high school.  We packed as many of them into their bags as they could carry, from the samples that we brought to Philadelphia.  They were so thankful, and praised God there at our booth.  It is exciting to know that we basically will have Conquest and Challenge now in Eastern Ukraine!
What a gift to be a part of something so beautiful, the evangelization of youth in places of poverty, persecution and deep faith. It's humbling to be part of God's plan for such incredible Christians.
"When we live out a spirituality of drawing nearer to others and seeking their welfare, our hearts are opened wide to the Lord's greatest and most beautiful gifts. Whenever we encounter another person in love, we learn something new about God. Whenever our eyes are opened to acknowledge the other, we grow in the light of faith and knowledge of God. " Pope Francis: The JOY of the Gospel