by Fr. Benjamin O'Loughlin, LC
I was first introduced to the Regnum Christi movement in 1995 when a young man named Brian Bisgrove returned home after finishing high school at Immaculate Conception Apostolic School, the Legion's high school seminary in Center Harbor, NH. He had discerned that religious life wasn't for him, but he was still an almost perfect example of the Regnum Christi charism. Before starting college, he wanted to pass on the gifts and formation he had received at Immaculate Conception, so he decided to kickstart Regnum Christi youth work in central New York.
There were six boys in that group. Two of us – myself and Fr. John Bender – would go on to become Legionary priests. It's been 19 years since we first met, a fact we celebrated with a very unliturgical fist bump right before we processed across the threshold of our chapel for diaconate ordination this past July 29th in Rome.
Brian Bisgrove, still a teenager, was our friend, mentor, and very much our role model. One year later he was diagnosed with cancer. A routine doctor's visit to deal with what they thought was a just sinus infection turned up a golf-ball sized tumor right behind his nose. They removed it, but the cancer had already gone into metastasis. That was a bombshell for all of us. And it was the beginning of a year and a half long struggle that Brian waged for his life. And in a very special way, he struggled for us as well.
They cut a grapefruit-sized tumor out of his neck three times… and Brian went through every operation without any anesthesia, for us. When the first doctor told Brian that he didn't understand, that he was about to experience more pain than he had ever experienced in his life, Brian answered, "No, doctor, you're the one who doesn't understand. For a year I've done everything for these boys. Now I can't play with them, can't help them, can't teach them. Now all I can do is suffer for them."
We didn't see much of Brian from then on. But he didn't disappear from my life. He taught me how to be a true Christian man. He introduced me to the gift of the Regnum Christi charism I live and love. When I joined the Legionaries and later shipped out overseas, first to Germany for novitiate, and then on to youth work in Spain and Italy, Brian was still my mentor. Or rather, my memories of him were, because Brian had passed away.
There are many difficult moments in a vocation. There are moments of deep joy, and crosses that weigh heavy on your shoulders. But I could never doubt. After all, God sent me Brian, who showed me my path. That certainty has seen me through hard times, and accompanied during my years of formation and youth work. And it's with me now as I receive the gift of the priesthood, and settle into my new mission as formation director of Everest Academy's International Program for Boys in Clarkston, MI. Brian is gone, but the Regnum Christi charism that I first saw in him is one of my greatest treasures. I just hope that someday someone will say the same of me.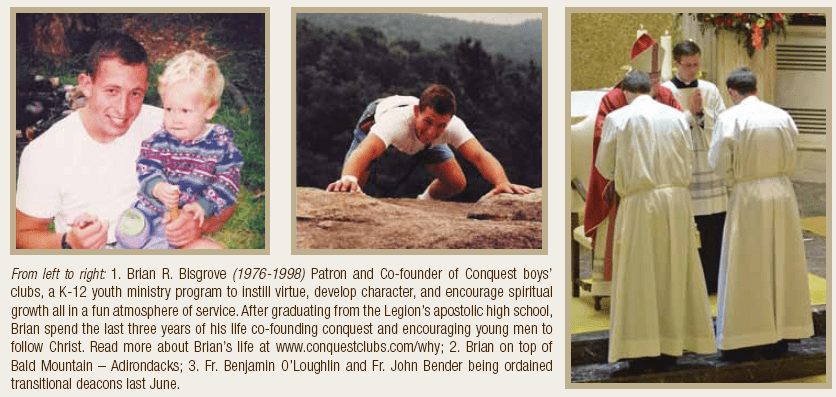 Originally published in "The Joy of Catholic Living Magazine" – Volume 3, Issue 1 2015