On November 28th and 29th, twelve boys ranging from grades five to twelve and three dads came together at Camp Brebeuf of the Hamilton Diocese for an unforgettable Conquest weekend. The theme uniting the retreat was Christ as the unfailing friend in our spiritual battle. The idea of spiritual warfare came to life throughout the weekend in a showdown  between saints (the campers) and the zombies (obstacles, the counselors, dads, etc).
After kicking off the weekend with an intense air soft battle on Saturday afternoon, the evening was highlighted by a campfire as well as Eucharistic adoration with confessions. The night concluded with a viewing of the Helm's Deep scenes from The Lord of the Rings.
A beautiful though frosty Sunday morning began with a mass celebrating the First Sunday of Advent. During the mass, the boys had the chance to renew their ECYD Pledge of Friendship to Jesus Christ. Next they enjoyed some epic games of manhunt and capture the flag. Before lunch the boys tried their aim shooting the ECYD potato cannon at a three headed zombie.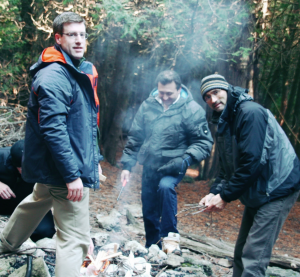 To finish the retreat, Fr Thomas Murphy gave the boys their ECYD commitment cards. These help the boys to remember the concrete ways that they want to grow in their friendship with Christ. The boys left Camp Brebeuf triumphant after both defeating the make believe zombies and learning that Christ will never desert them in their spiritual battle.