The Conquest Club in Regina, Sk, Canada held a Lent retreat on April 5th and 6th led by Father Alejandro (Alex) Mijangos, LC and the Conquest Young Men. Forty-eight boys and leaders spent an uplifting weekend focusing on the retreat theme using St. Peter as a model of how to be a Man of God for others. The retreat started Friday evening with the boys leading Stations of the Cross, which was followed by adoration (and opportunity for confession). The evening ended with team building, sports and the incredibly exciting Slinky Relay team competition.
The full day Saturday included guided talks, adoration (including more opportunity for confession) along with energizing sports and activities. The activity highlights included the "Lenten Emmaus-zing (Amazing) Race", where the boys had to man-up in various challenges. The afternoon also included the traditional multi-sport tournament.
The Regina Conquest Club has been running for 18 years, helping boys learn their faith and grow into the young men that Christ wants them to be. The Club runs all age groups from Father and Son, Junior to the Club programs 5/6, 7/8 and High School. Each age group has youth leaders who have progressed through the Club learning how to lead for Christ. The Conquest leadership model is at full operation in all age groups. The Lent retreat was another opportunity to develop leadership skills and grow in Christ. The retreat included the Parish Mass on Saturday evening, where the Conquest boys participated in all the ministries during Mass.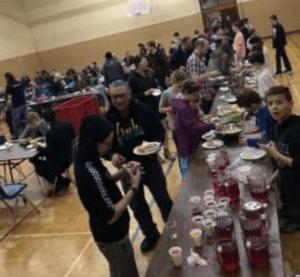 The retreat concluded after Mass with what is now becoming a tradition with the Regina Conquest Club, the family meal. All of the participant families are invited to Mass, then to come into the hall for a family meal which includes the retreat awards. This tradition was started at our Advent retreat in December and has become very popular with over 100 people attending including the participants. It's an opportunity for the families to gather together and get a glimpse into the retreat and what the boys experienced. It's a great atmosphere and a very joyous way to end the retreat.
More information and news about Conquest Regina and past and future events can be found on our website at www.conquestregina.ca.