By Michael J. McKay, S.T.D.
Congratulations to the boys who participated this Lenten season! The top award of $100 goes to Tim Haynes' Conquest Holy Redeemer – Pickering, Ontario Junior group who scored 905 games at 82.2% accuracy scoring over 7,800 CQ-IQ points. Ethan was their high scoring star. He even took on 697 questions in the Church History category that really challenged him. But, he made up for lost ground when it came to the God category. He seemed to have God's number by scoring 99.7% accuracy on questions About God (though they were mostly at Level 1). The Holy Redeemer group did outstanding and Ethan is a real gamer!  
Congratulations also to the other Conquest leaders who encouraged their boys to play: Victor Rodriguez' Conquest Kansas City North Father & Son group and his son, Felipe,  did a good job especially in the area of the Old and New Testament. Jason in Victor's Junior group did well too on the Lives of the Saints.  
David Hood's St. John Brebeuf – Winnipeg Junior group participated with his son, Andrew, doing well in the area of Scripture at 77.1% accuracy rate. 
Tim Burke's Conquest Holy Spirit – Brighton, MI Junior and Father-Son groups played. Joseph scored over half of his Q&A in the Scripture area at 80% accuracy rate! Conner and Patrick covered Liturgy and Sacraments as well as Scripture, Saints and God. You all did great!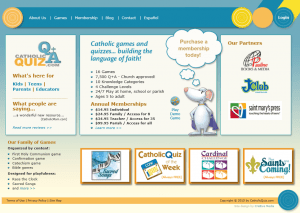 CatholicQuiz.com remains available at no charge to all groups in the Conquest network of Junior or Father-Son groups for the remainder of the year. Any club can challenge any other club in the network for your own contests or challenges. Program leaders simply go to the ClassroomChallenge button on your membership and click, Start a Challenge. Then, follow the easy directions to challenge each other.  
CatholicQuiz.com provides a tool for Conquest members to engage their boys anytime in learning through interactive CQ computer games that will create interest and curiosity about the faith. Try taking a little time each week and play CatholicQuiz of the Week together with your kids to prepare for the Sunday liturgy. The Q&A and reflection questions are always new each week anticipating the next Sunday.