Original article posted on the Regnumchristi.org website.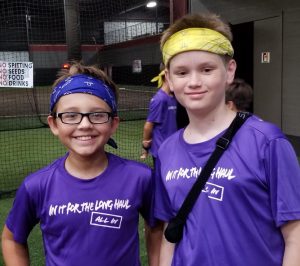 About 120 boys participated in Camp Texas Conquest this summer. The camp, which ran from June 24 to June 30 at Camp Cho-Yeh in Livingston, Texas, offered premium activities for the boys twice a day, such as lake swimming, wall climbing, archery, paintball, and a high rope course. Legionary priests offered daily formation activities and Mass. 
Campers came from all over Texas, and a few even came up from Saltillo, Mexico. Some of the kids are involved in Conquest weekly, but most have been to father-son camps or weekend retreats. 
Meeting challenges 
The college counsellors led the camp, while the junior counsellors served under them. Fernando Saucedo, one of the college counselors who also was a Regnum Christi Missionary last year in Washington, DC, said this camp was different because there were so many college guys. The college counsellors tried to be like big brothers who the high school guys could relate to.  
The camp proved to be a life-changing experience for the counselors as well as the campers. Fernando  described working with Mike Gomez,* a high school counselor who was struggling to manage some of the younger boys who kept giving him a hard time. As Fernando described it, "Day in and day out, Mike was not only willing to keep trying, but he was so willing to be humble about it, to ask questions, to come to us college counselors and ask 'Hey, what do I do?' 'How can I be better?'. I was really impressed by how he strove to be better. I think he earned a lot of respect from the young boys simply because he showed that he wanted the best for them." Fernando was really impressed with Mike, who had driven all the way from Austin to come to the retreat in Dallas. 
The campers faced some challenges as well. For instance, Fernando's group didn't manage time well and had to put a skit together in the last 20 minutes of the allotted time. Although they had to improvise a lot, they were thrilled when they unexpectedly won. "This was a really awesome moment for these guys," Fernando said, "because it showed that, when they set their mind to it and worked as a team, they could go beyond what they [believed they could do]. I think I learned something but, more than that, I think the whole team learned something then." 
Forming leaders 
There was one group of boys at the camp who win every year because they always sign up together so they can be on the same team. Fernando's team really wanted to beat them, but a few of the guys who were better natural leaders had to leave early, making things tough for the others. Fernando said that leading a team with such difficulties taught him to adapt to kids' needs.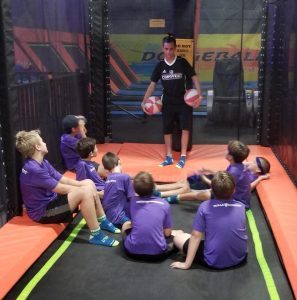 "As a college counselor," Fernando explained, "you can fall into just going by the book and saying we need to do this because that's what we were instructed to do. But seeing how the kids respond to different things really helped me as a counsellor. There was one moment [when] we were doing an activity and we were in last place, so we were getting frustrated. So, I called them together and we took a knee together [and] I said, 'There's still a chance, if we look at where we can be, not where we are.' There were then guys who stepped up and led. A lot of the motivation came from within themselves." 
The camp helped Fernando decide on his future. After this camp, he realized that his passion is to serve youth. "Being a missionary, I felt like it was just something I was learning," he said, "but after doing a whole year of college and being away from the missionary lifestyle, it hit home when I came back to a camp like this." After wondering about his major this past year, he changed to psychology with a minor in education. 
Spiritual formation
Fr Matthew Schmitz, one of the Legionaries running the camp, said he thought Mass and Confession were the parts of camp that transformed the boys most. "We learned from Challenge, from the girls, how important adoration is and the boys really respond to that," he said. "You see grace at work."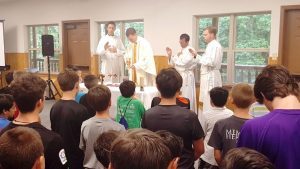 Along with Fr Matthew, Frs. Michael Picard, Michael Vanderbeek and Jorge Obregon, LC, along with several brothers studying humanities in Cheshire, assisted at the camp. 
*Note: Mike Gomez is a pseudonym, as we don't use minors' names without parental permission.