What is Conquest?
Conquest is an Official ECYD Program for boys ages K-12. Our Catholic Curriculum fosters a deep relationship with Jesus Christ and forms adolescents as Christian leaders to transform culture. Youth Ministry Packages
Conquest and Challenge offer parents, schools and parishes methods, material, and training to help boys and girls grow in their faith and serve others. We do this through a variety of packages and kits specifically for adult leaders, teen leaders and the boys and girls. Conquest Camps
Conquest camps are for boys in 5th through 12th grade and are focused on spiritual development as well as leadership skills. We offer over 25+ camp locations each summer, providing boys with a unique experience of "Forging them in Virtue" with fun and adventure!
Testimonies
I think it's an excellent program. Teens have an opportunity to grow in faith both younger ones who are participants and also older ones who serve as role models. It gives them wonderful footing for the years ahead as they enter high school and college. It's deepened their personal relationship with Christ, and given them a solid foundation of the teachings of the faith. It's focused on charity and loving one's neighbor — what a great lesson to learn at a young age.

Msgr. Stumpf

Pastor, Indianapolis

It's a program that helps you understand that it's not weird to have faith. It's actually cool and fun, to believe in God.

Jeff Shepherd

Dad & Volunteer

Conquest and Challenge has been incredible joining all of the pieces of our parish. With the school principle and the director or religious education helping me to communicate, we have been able to take High School youth and implement this program to help them be effective Catholics in a fun way.

Margaret Merrill

Youth Minister, Tennessee

Conquest grows virtue and love of the faith in boys. My sons have been involved with Conquest for years and they have become strong, confident, purposeful young men who love the Church and demonstrate charity and character in all they do.

Jim Gregor

Conquest Dad & Volunteer
Download more information!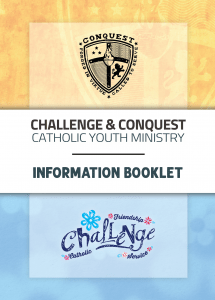 Want to find out more about how Conquest and Challenge work?  Download and flip through this detailed information booklet!