Story by Robye Harvey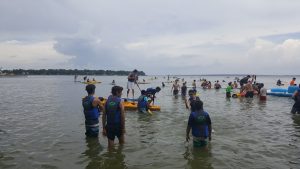 Texas Conquest 2018 was held at Camp Cho-Yeh in Livingston, Texas where 120 boys ages 10-15 were led by high school and college counselors for a full week of fun, formation, and food to learn and live out "I may struggle, but I will…NEVER QUIT!" Fr. Michael Sullivan, LC champions the entire adventure to bring this first class, authentically Catholic experience to fruition each summer with Sonia Drabek, his RC volunteer camp co-director, and fellow Legionary priest team: Fr. Michael Picard, LC, Fr. Michael Vanderbeek, LC, Fr. Matthew Schmitz, LC, and Fr. Jorge Obregon, LC.
More pictures, videos, and dates with registration information is all available on the Texas Conquest website.  The final Mass before boys were passed back to their families included the ECYD Pledge of Friendship with Christ ceremony and the renewal of promises by most others.