For Boys in K - 4th Grade
The Conquest Junior Leadership Program is a weekly virtue based program ran by dads and youth leaders. The Jr Program has its own unique Conquest materials for this age group. This includes Curriculum,  t-shirts, bags, & commitment cards specifically designed for the younger age group.
The K-4 age range is a pivotal time in a boy's life. Waiting on the threshold of his young life are the adolescent years which are highlighted by a sense of independence amid physiological, intellectual, emotional, social, and other types of changes. Therefore, it is imperative to assist him in learning and applying the basic truths of a virtuous, masculine life now. These truths will help him build a solid foundation that cannot be uprooted by the pressure of the world later. Of greatest importance in this quest for a virtuous foundation in the boys life is a personal relationship with Jesus, as his best friend. By means of mentoring, the boys are guided through the age-appropriate development of virtues such as respect, self-discipline, and obedience all while developing their faith and leadership skills.
Junior Leadership Curriculum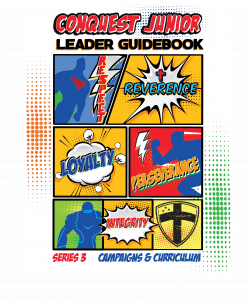 The Conquest Junior youth ministry curriculum helps the boys learn about virtue, leadership and about their Catholic faith in a fun way. Each year the curriculum changes and we focus on five new virtues and saints, making up the Series 1, Series 2 and Series 3 curriculum.  Each virtue campaign also includes virtue stickers that the boys can add to their commitment cards. There are coloring pages that you can print and send home. The programs have point tracker booklets and point chips as well.
(Point chip sets and squad leader bags are sold separately)
Download a 1 week sample of the Series 3 the Adult Leader Guidebook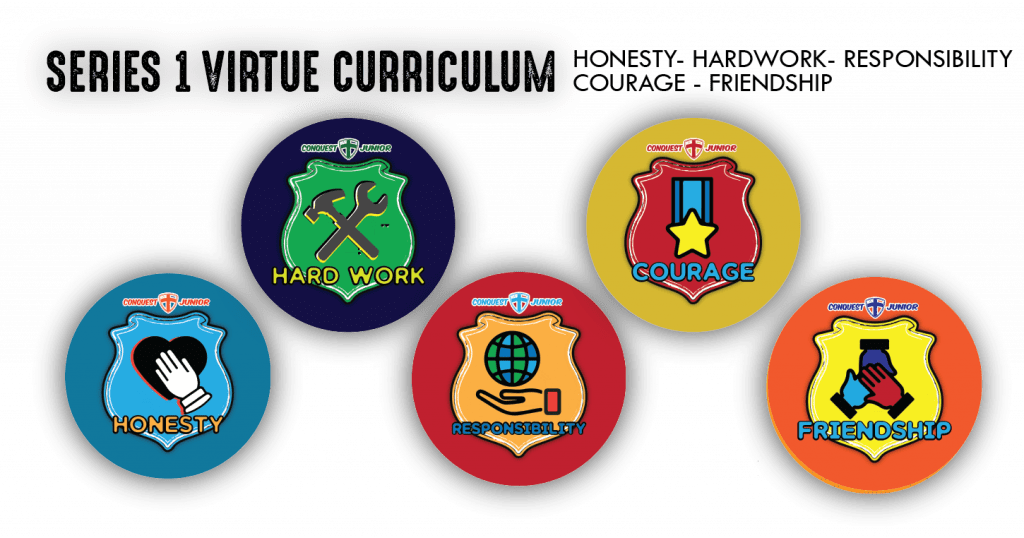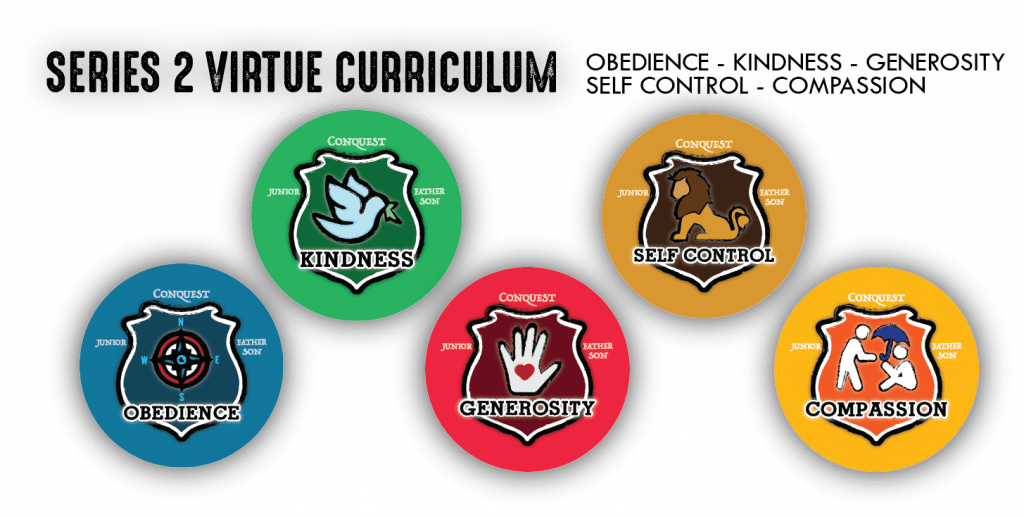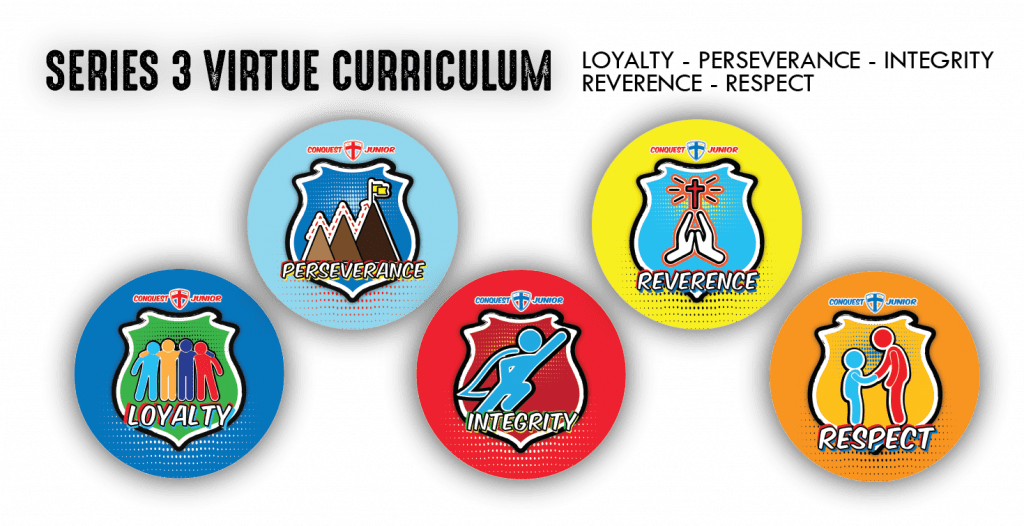 Conquest Junior Weekly Activity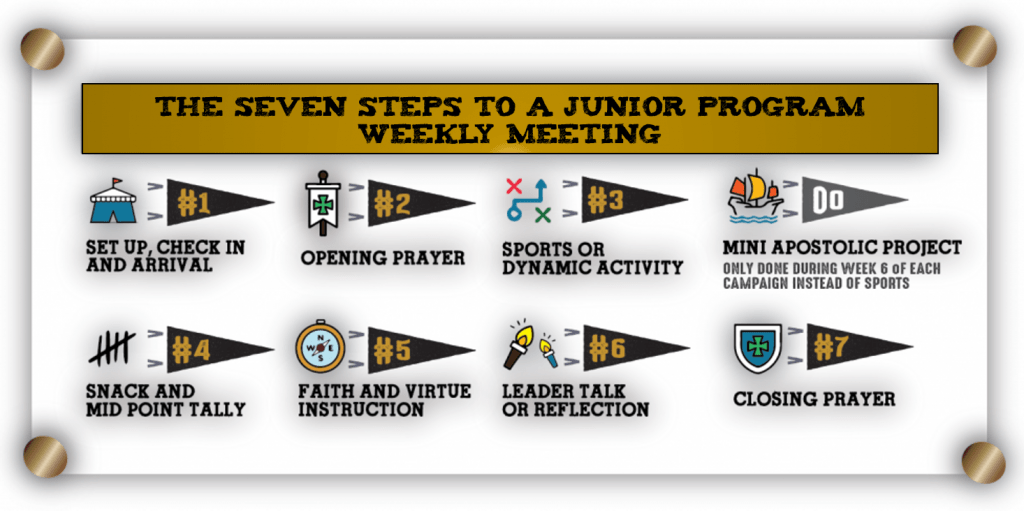 Conquest Junior
Adult Leader Kit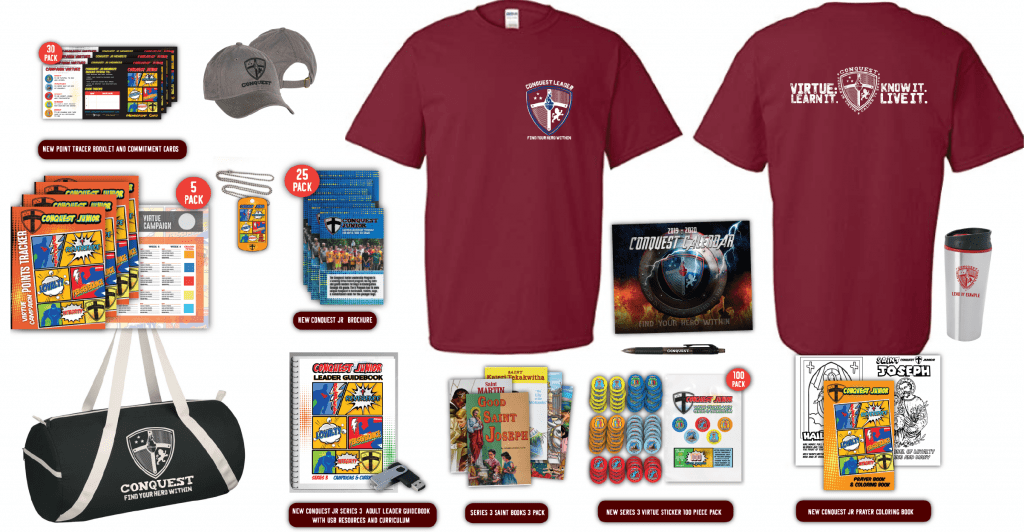 The Conquest Junior Adult Leader Kit for contains all the elements that the adult leader needs to run Conquest Junior effectively. The most important item in this kit is the 200+ page Conquest Junior Leader Curriculum Guide with the weekly activities. The Leader kit also includes Conquest Junior USB with hundreds of resources, three Series 3 Saint Books, 5 Pack of Point Tracker Booklets, 20 Pack of the New Conquest Junior Brochures, 30 Pack of the Conquest Junior Commitment Cards, New 100 Pack Virtue Stickers with 20 stickers of each of the 5 virtues, Conquest Calendar and Coloring Prayer Book, Conquest Dog Tag and Pen, Conquest black canvas duffel bag and a Conquest stainless steel 20 oz. water bottle.  The Conquest Adult Leader T shirts are sold separately and available in Adult sizes.
Conquest Junior
Member Kit

The Conquest Junior Member Kit for has everything a Conquest Junior member needs to participate in the program.  It includes the Conquest Junior orange drawstring cinch bag, the Conquest Saint and Virtue Calendar, Conquest Coloring & Prayer Book, Conquest dog tag , and Conquest pen.  The Conquest Junior T-shirts are sold separately and available in Youth and Adult sizes.
How to Get Conquest Junior Started
If you have a Conquest Club Annual Membership for 2019-20, its very simple. Just go online to the Conquest online store and purchase the add-on Conquest Junior material. If you do not have a Conquest club and are just starting, you will need to visit the Mission Network website to purchase your annual membership and you will receive an email with access to the online store, coupons for free Conquest Junior items and instructions.
Visit our Conquest Junior Online Store or Conquest Registration Site to get started.