By Trish Baily
George Khoury, a senior double-majoring in Computer Science and French at Hope College in Michigan, is not your typical college student.
He is a native Palestinian Catholic, part of a tiny and often forgotten population in a land dominated by Judaism and Islam. Palestine's Roman Catholics, who make up less than 2% of the total population, sometimes find themselves caught in the crossfire between Jewish and Muslim extremists. They end up carrying the burden of economic and political consequences they did nothing to merit. At the same time, they often struggle to find support in the practice of their faith.
These difficult circumstances had always made George Khoury sensitive to the importance of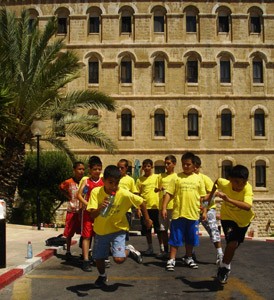 building up the Catholic community in Palestine. But what he didn't know was that he would be called upon to play a big role in an initiative that would bring a dynamic, new experience of the faith to Palestine's Catholic children: the first ever Conquest summer camp in the Holy Land.
Invited to Serve
Since George's father works in close conjunction with the Legionaries of Christ stationed at the Pontifical Institute Notre Dame of Jerusalem Center, it was only a matter of time before the talented 21 year old got in contact with Fr. Eamon Kelly, LC.
Fr. Eamon presented him with the big picture of what Conquest groups are all about: virtue and character formation, spiritual formation, fun, friendship…
Then he sprang the invitation: "What do you think about helping out as a counselor for the first Conquest camp in Jerusalem?"
George was attracted by the idea. A summer camp for local Palestinian Catholic boys was sorely needed. Sometimes the Catholic formation given in the schools (with a non-Catholic majority) tended to emphasize the historical aspects of Catholicism while leaving aside the faith itself. And most summer camps in Palestine are all fun and sports-a welcome break from the rigorous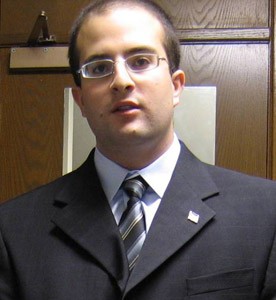 intellectual effort required during the school year, but hardly a school of virtue. In George's words, growth in virtue during an ordinary summer camp "would be considered rare, accidental, and highly welcomed but rarely striven for."
So he said yes.
After a few more meetings with Fr. Eamon, George found himself handling more and more responsibilities for the fledgling camp. He was getting donations from local companies and businessmen, arranging budgets and reserving transportation, organizing the meals and swimming excursions, and scheduling Masses at the holy sites. Before long, all of the logistics and finances had fallen onto his capable shoulders.
An Ancient Land through New Eyes
Then the camp began. From July 7 to 12, 2008, a group of 17 Catholic Palestinian boys ages 10 to 14 gathered at the Pontifical Institute Notre Dame of Jerusalem Center as their home base.
All of the activities were held in Arabic, and the talks, competitions, and parts of the Mass were translated by John Nesnas, of Kingston College in the United Kingdom, and two bilingual 12-year-old team leaders: Johnny Barakat and Musa Nimatalah.
The boys went to visit different holy sites every day, with daily mass and prayers in significant locations. George had organized their trips so that they would be walking in the footsteps of Christ's life. In each place-from the grotto of the Annunciation to Bethlehem to Galilee and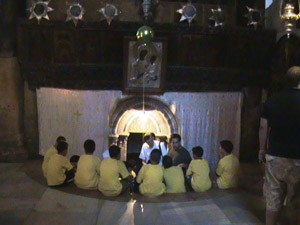 Nazareth to Jerusalem-the boys had fun but meaningful activities that helped them retrace the steps of Christ early life, public ministry, passion, death, and resurrection.
A typical day at the camp would start at 7 am, with prayer, breakfast, and sports activities presenting a virtue to be conquered that day. Then came lunch, followed by more activities, such as: team competitions in Bethlehem, Nazareth, and the Mount of Beatitudes; a boat ride on the Sea of Galilee; a water-park activity in Tiberius; speed climbing the Mount of Temptations; Mass at Gethsemane; climbing the Mount of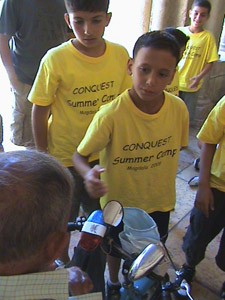 Olives; and visits to Golgotha, the Holy Sepulcher, Emmaus and the site of the Ascension. Each day ended with a recap by the group, with dismissal at around 7:30 pm.
In the midst of all the fun and competitions, the boys were gaining something precious: they were learning to see the faith-and their own country-through new eyes.
Success
Parents know when a summer camp has been successful because they can see the results in their children. After this Conquest camp, George Khoury said the parents were raving about the changes they had seen.
One dad leaned over to Deacon Michael Sullivan, LC, and whispered: "They've changed-I can see it! Ever since the camp, it's as if they are more mature. They now know when it is time to take something seriously."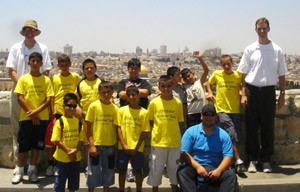 Some mothers had tears in their eyes when thanking George and the Legionary priests because they saw that their boys had gained new virtues and a deeper knowledge of their faith.
After the camp, several kids were begging for next year's camp to be much longer than a week. They wanted a month. And after the boys' camp, the parents signed up twice as many of their girls for the Challenge summer camp to be held a week later.
An Experience of Hope
When asked what he saw in the spirit of the Palestinian Catholic boys, Deacon Michael Sullivan, LC, said that they have a resilient joy.
"I was refreshed and moved by the joy and simplicity of boys who live their Catholic faith in the midst of an environment that is anything but supportive," he said.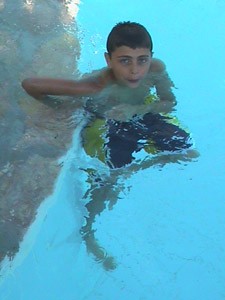 One of their first Conquest activities was a competition for virtuous acts. Deacon Michael was surprised to see how quickly they grasped the spirit of charity that the activity was meant to teach.
"Rather than being interested in their own team's totals, members from both teams began raising their hands to tell me about the virtuous acts of members of the opposing team, fully aware that their 'opponents' would be awarded points for these acts. This went on and on and became a regular activity," he said.
"These boys got beyond points and got closer to God."
Looking back on the experience, Deacon Michael, who will be ordained a priest at Christmas, counted it a blessing. "I went to teach the faith, but they ended up teaching me," he said.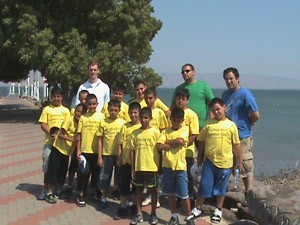 For George, too, the experience was a satisfying one. He had played a major role in organizing and running the first ever Conquest club in the Holy Land. He had seen the boys changing from one day to the next, and he had the satisfaction of knowing that his hard work had been invested in a most important cause: the spiritual good of his own people.