The Ramones, one of the most influential bands early in the Punk Rock era started out playing in a garage.
David "Dave" Packard and William "Bill" Hewlett also started the company that would bear their names in a garage.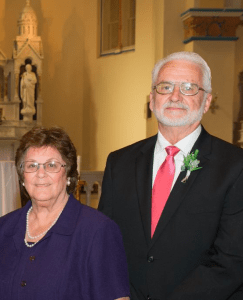 The garage played a key role in the enterprise Tom and Barb Weisbrod embarked on two decades ago as well. So did the driveway, kitchen, basement and other parts of the home they built near Milan, Indiana.
Of course, Tom and Barb weren't aspiring rock stars or business tycoons. They were just Regnum Christi members, parents, grandparents and the owners of a home in the country with 50 acres and two ponds.
Their home might have remained a simple place for family and friends to visit and enjoy being away from city chaos. And in fact, it is that today, a place where the Weisbrod clan gathers.
But Fr. Matthew van Smoorenburg, LC, had other ideas that found an open place in the hearts of Tom and Barb. They had known Fr. Matthew for a couple years and became good friends during his 15+ years serving in the Ohio Valley.
Tom had helped transport carloads of young men to Legion formation centers in New Hampshire and Cheshire, CT for retreats and discernment courses. The trips "back East" started and ended at the Weisbrod home, eventually using a large grey RV/school bus affectionately referred to as the Silver Bullet. It was an ideal place to meet and get a group of boys ready to hit the road.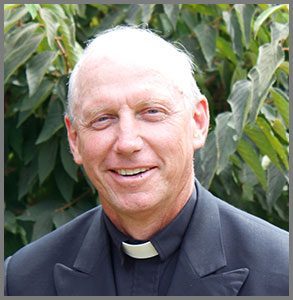 Fr. Matthew wanted to start weekend retreats and summer camps where boys could have good, wholesome fun and be formed in the Catholic faith. So in 1997 he approached the Weisbrods about using their home for a camp.
They agreed, perhaps having little idea of what they were starting and where it would go.
The first camp in 1997 was rather simple. A couple dozen boys sleeping in tents by the pond and eating meals in the garage-turned-mess hall. It was Andy of Mayberry meets Fulton Sheen – and it worked.
And it grew. The Weisbrods remodeled their basement to be a large sleeping area for the boys, put in a chapel and added a second entrance (for safety and mud removal from the boys).
The number of retreats grew, with participation initially aimed at 32 and later 40 per session. In 1999, they started looking for another property, anticipating future growth.
And Tom retired from his fulltime job to become a fulltime apostle: "I realized I could retire and loved the apostolate…so that's what I did."
After a couple years of looking, Fr. Matthew – with the support of generous donors – was able to buy the current property in Oldenburg, IN, and with a huge amount of work has turned it into Camp River Ridge.
"We were merely the catalysts for this whole thing," Tom said. And he stressed the importance of keeping a "homey" environment.
"That's especially important for the younger kids," Barb said. "Some were away from home for the first time, so we wanted to provide a home feeling. Fr. Matthew said one of the things to initially attract boys to retreats or camps was the reputation of serving good food.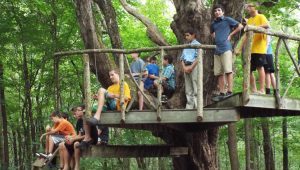 "The meals were enjoyable but the formation was also exceptional because it seemed like after every retreat or camp, I'd get a letter or call from one of the parents saying 'what did you do to my son…he is asking if we can have family prayer time or go to Mass a second time during the week etc.'. There is definitely a positive influence from the activities at River Ridge."
Camps and retreats could get crowded. Although Fr. Matthew aimed in the early days for 32-36 boys, he never turned away anyone who showed up. There were also Challenge Girl's retreats with up to 55 in attendance.
"We don't have a big house," Barb said. "We just have rubber walls and it didn't matter how many showed up, we'd work it out."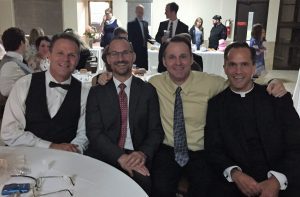 Perhaps surprisingly, the Weisbrod's introduction to the Legion and Regnum Christi didn't have anything to do with camping. It happened at Purdue University, where their sons attended college and met Fr. Owen Kearns, LC. At one time or another, all four sons went on visits to Cheshire to test their vocation.
Over the years, most of Tom and Barb's grand-children have attended the retreats. Their youngest son, Daren, today is Fr. Daren Weisbrod, LC, and their grandson, Br. Philip, n.LC is preparing to take his first vows in Cheshire, CT.
Legionary camp initiator Fr. Matthew is now pastor and leader of the Legionary team at St. Brendan the Navigator Parish in the Archdiocese of Atlanta.
Fr. Matthew has fond memories of the "camp days", and said it was vital to start the camp because there was such demand for the Regnum Christi way of formation – and for a place that was joyful and attractive to boys.
"Without the generosity of the Weisbrods it would have been impossible," according to Fr. Matthew. "They did the preparation, opening their home and improving things over time."
And over the past two decades the camp has served more than 3,000 boys.
"There were so many people who were part of the camp that I hesitate to mention names because I might leave someone out, Barb said. "There were parents of the retreat participants, many Regnum Christi members, people involved with Royalmont Academy, and those who met Father Matthew and just wanted to be part of the influence on a boy's life. They in turn became the witnesses of the great things happening at the camp."

And a camp that started very simply has grown into Camp River Ridge, which is currently directed by Fr. Lucio Boccacci, LC.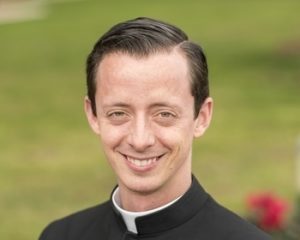 Fr. Lucio explains why there is demand for the program Camp River Ridge offers:
"A vast majority of adult Catholic couples say they have one or more sons that have left the faith, or are not practicing their faith. The vast majority of Catholic families struggle against a pervasive and aggressive secular culture that works against them.
"Catholic parishes, schools, and youth ministry groups are finding it harder to attract and catechize their youth effectively, in a way attractive to youth. We're filling a very real gap that exists in the formation of young people – and we know we are doing it for both boys and girls – with gender-specific programs. Our mission is clear and direct: To awaken, form, and launch Catholic youth as apostles that transform culture."
So what makes us different than CYO or other Catholic camps? According to Fr. Lucio it is small groups, the presence of religious leaders, strong connection with families and being part of ECYD, an international association of Catholic teens.
"We mostly do gender-specific events, so boys can be boys and girls can be girls," Fr. Lucio said. "This is a great way to tailor-make our activities for campers! We always have priests and seminarians present at our activities. For the girls activities we have Regnum Christi Consecrated Women."
Visit the Camp River Ridge website to learn more.
Story originally posted on www.regnumchristi.org